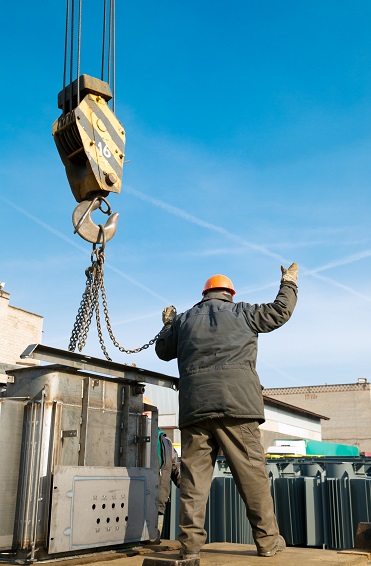 Worksafe DG Licence
2016-07-29 15:09:54
Our nationally recognised "Dogging" course is a Worksafe issued high risk licence class - DG. With this licence you can perform dogging activities in any state or territory of Australia.
A trained and licensed Dogman is required when any decisions need to be made regarding:
1. The identification of lifting points.
2. Selection / Inspection of slings or
3. Selecting of a slinging technique.
4. Directing Crane movements.
| | |
| --- | --- |
| Course Name: | Licence to perform dogging |
| Course Code: | CPCCLDG3001A - Licence to Perfom Dogging |
| Duration: | 5 X 8 Hour Days |
| Location: | Go Workplace Training has training venues Williamstown in Victoria and offers this training course onsite for groups of 6 or more. |
Participants:

Maximum of 8 students per trainer, per course

Dress Requirements:

Safety shoes and appropriate clothing (High visibility vests, hard hats and all other required PPE can be provided)

Equipment Requirements:

Site and task specific hazard control measures such as barriers to create pedestrian zones, signage and the like.
A slewing mobile crane with a telescopic boom and winch that meets state/territory regulatory requirements, accompanied by a licensed crane operator.
A licensed crane operator.
As a minimum, the following items must be available in a condition which would comply with the requirements of the relevant state/territory legislation and; similar equipment identification and isolation by the candidate:

FSWR sling
Soft sling
Chain sling
Shackles
Crane sling shorteners
Lifting ring

Appropriate communication systems. For example, fixed channel two way radio and/or whistles
Loose pipes with stillage (minimum approximately 200kg)
Steel plate (25 mm, 1.5m x 2.0m)
Square load defined lifting points,
multiple leg sling lift (minimum weight 2 tonne)
Round load (minimum weight 500kg), to be reeved, not less than 5 metres long
Uneven weighted load (test lift) (minimum weight 2 tonne)
Tagline rope Sufficient (not less than 10 mm) natural or synthetic rope to complete the four knots, bends and hitches.
Note: the assessor is to confirm that the candidate has the appropriate PPE when making arrangements to conduct the assessment. If the candidate does not have, or cannot obtain the appropriate equipment, the assessment must not be undertaken.
Where the candidate is to provide their own safety equipment, as required by the risk assessment for the location at which the assessment is to be undertaken, this equipment will include:

A safety helmet
Appropriate footwear
High visibility vest or other similar clothing
Other protective clothing and equipment as required.

Material Required:

All material is supplied including trainees guide, workbook, resource materials, assessment paperwork and administrative documentation.

Prerequisites:

Can use the English language at a level that enables the safe performance of high risk work. (6.7 - National Standard for licensing persons performing high risk work 2006)
Participants are required to have general good health and fitness and any pre-existing medical conditions that will affect the training must be disclosed prior to attending.

Course Description:

Participants will be able to identify the safety requirements for all dogging activities and their working environments as well as being able to apply a working knowledge of the OH&S and regulatory requirements in accordance with Worksafe standards.

Outcome:

Upon Successful completion of this course, participants receive a statement of attainment and are required to lodge their notice of assessment with Australia post within 60 days. Upon successful lodgement with Australia post, a Worksafe 'Licence to Perform High Risk Work – category DG' will be posted to the applicant.